RGA Stonemason & Landscaping supply and install stunning natural sandstone blocks and boulders that will add significant value to your next project!
Natural sandstone blocks can be used to build a retaining wall around part of your property. With its warm caramel tones, sandstone has traditionally been used for centuries as a building material and natural sandstone can add class and style to your garden landscaping.
Sandstone is a naturally porous material and this makes it a very effective choice for a use in the construction of a retaining wall. Unlike walls built using traditional blocks and mortar, sandstone allows the moisture in the soil to seep through and drain away. It has its own inbuilt drainage system and even if damage from excessive water pressure does occur, this can normally be repaired fairly easily.
NATURAL SANDSTONE BLOCKS OF THE HIGHEST QUALITY
Our blocks are available in various sizes for landscaping, feature walls, boundary fences and sub-divisional retaining walls. You can purchase our sandstone blocks in bulk or talking to our RGA Stonemason & Landscaping to find out pricing on smaller quantities.
Our new cut blocks give you a quick installation, great looks, and perfect heights everytime.
We can also presure clean your sandstone and apply sealer to your retaining walls, pavings, stairs, etc to bring out the more vibrant color of the sandstone and protect it from the sun and climate.
So why not give the guys at RGA Stonemason & Landscaping a call today for a FREE no obligation quote, you will not be disappointed.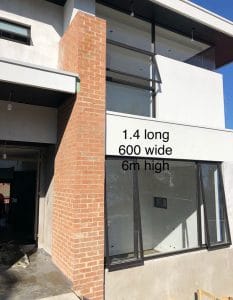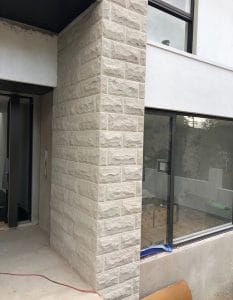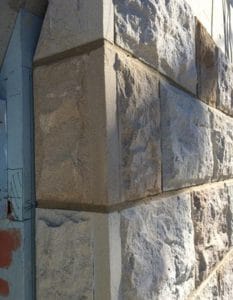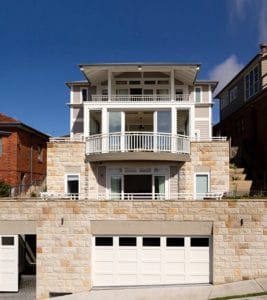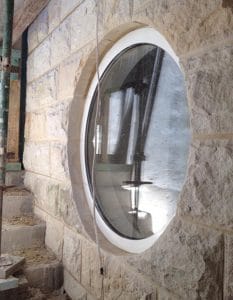 Benefits of our Sandstone Products
Sandstone bricks are reconstituted sandstone made from recycled stone to give the appearance of sandstone. They are manufactured to the same size as a commercial brick and so can be used to replace existing bricks on certain projects.
So why build something like a retaining wall out of besser blocks, when you can have a sandstone block wall at half the cost - and have a more natural look!